On this page are four pictures of Bill's four channel, active crossover power amp used with his "Marriage Made in Heaven" computer multimedia system. The amplifier uses all Marchand boards, a PS24 amp power supply, two stacked PM21 dual power amps rated @ 65 watts/channel, a PS10 power supply and two XM1 crossover boards. This amp has two selectable inputs for the addition of a tuner or other source later. There is a master level control so it isn't necessary to use the computer software to adjust the level, and level controls for the high and low pass outputs on right & left channels.
Bill comments "There is no cost estimate as the Marchand boards are available anywhere from manual only, board only to fully assembled. Boxes vary widely also, some surplus stores will practically give boxes away, you will have to make a new front and rear panel from scrap sheet metal, etc. etc. This was probably overkill for a computer sound board, but it was fun".
The rear panel with the in/outputs, fuse and switched AC outlet for a tuner or other device.


The interior with the various boards, wiring. The box is 17" wide, 3" high and 10" deep w/out protrusions.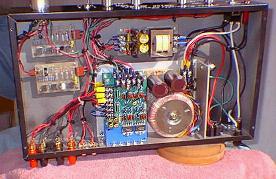 Another view of the interior.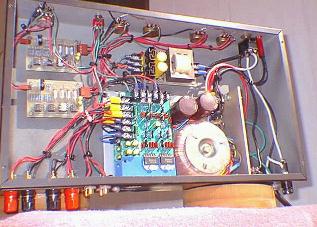 Bill can be contacted via e-mail at wmeckle@uswest.net